You may have heard that to rent an apartment in Paris can be far more painful than childbirth and for some cases it is. We are here to guide you on what to expect and how to overcome the hurdles when trying to navigate the French rental market.
How does the rental market in France work?
In France, people don't list their apartments or houses with just one agency, but usually with several, to increase the chance of finding a good tenant. Real estate agencies usually only work in a limited area and do not cooperate with other agencies. The estate agent's role is to act as a kind of filter between the owner of the apartment and the potential tenant, to make sure that all the documents are in order and that you meet the general requirements. In the end, it is always the owner who chooses the tenant and not the agent.
The biggest online platform for selling and renting property in France is seloger.fr. This is where all the real estate agents post their properties and where you can usually find the same property several times, not too often with slightly different prices.

Other sites where you can look for long time rental properties are for example bookaflat.com or logic-immo.com or the site pap.fr which is a site between letters and tenants without any agency involved.
Estate agents never put the address of the property in the ad and are reluctant to give out the address unless you book an appointment. This is so that other real estate agents will not be able to contact the same client or so that you yourself can contact the owner directly and thereby avoid the estate agent's fee. 
Prepare "Le Dossier"
When contacting an agency to book an appointment to visit a property you are interested in renting, some agencies, or owners, will ask you for your "dossier" even before they show you the property. The standard dossier consists of:
Your ID
Last 3 months salary slip
Work contract
Last year's Tax declaration
Any other regular financial income
French landlords love to have a classic dossier where the household income is three times the monthly rent and the tenant is on a French CDI contract (Contrat de durée Indeterminée). But not everyone is going to fit in this box. What if you are planning to move here on a foreign contract with a foreign income? Or you have saved up and are planning to take a year off and will not have a salary or work contract. Do not fear, there are means to show you are a worthy tenant.
There are two options if you are in one of the situations mentioned above.
1) The first option is to get a bank guarantee, where you freeze a year's worth of rent for the duration of your rental contract. This must be done by a French bank. It is a time-consuming procedure, 4-6 weeks, and seeing the rental market in Paris is very competitive, there is a great chance the landlord will find another tenant while you are waiting for your bank guarantee.
2) The second option, if you do not have a French work contract, is to get a guarantor. This can be in the form of a French person or a company acting as your guarantor. There are several online companies specialized in this type of service and it is usually a quick process. It has become increasingly common to use this kind of service in Paris and most Real Estate Agencies are used to working with these types of companies.
What kind of rental?
You need to Determine whether you want a furnished or unfurnished property and also if you want to live in the city centre of Paris or in the suburbs.
It Is important to note that furnished apartments come in varying degrees of furnished so check what is included when visiting the property. It is also important to note that unfurnished apartments may come without a kitchen or with a partially furnished kitchen.
The rental contracts for furnished and unfurnished properties differ slightly. In the case of a furnished house or apartment, the standard contract is for one year and can be renewed every year. If it is an unfurnished property, on the other hand, the lease is for three years, renewable every three years. The landlord cannot terminate the contract before the one- or three-year contract period, while the tenant can terminate the contract at any time during the rental period with three months, or one month's, notice, depending on where in the country you are or if there are special circumstances. This is done by registered letter. The landlord can also terminate the contract at the end of the rental period, also via registered letter. Depending on type of contract the landlord have anything from three to six months, before the end of the rental period, to give notice.
If you are renting through an agency, once you have decided to rent a property, you have to move quickly. Inform your wish to rent the property to the agent clearly and send in your file (dossier), if you haven't already done so. After consulting with the owner, the agent will confirm whether or not your file has been accepted. If it has been accepted, expect about a week for the agent to draw up the contract for you to sign. There are several fees involved when renting a property in France. They are as follows:
Agency fee: 8€ – 12€ x m2 of the rented property
Etats de lieux: €3 x m2 of the rented property
Deposit: 1 month's rent for unfurnished properties and 2 months' rent for furnished properties is standard.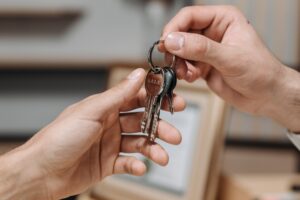 Once the contract is drawn up, you will be asked to pay the agency fee.  A date for the 'Etat des Lieux' or inventory check will be arranged, and you will be asked to transfer the first month's rent, along with the security deposit and the payment for the 'Etat des Lieux'. You will also be asked to provide house insurance. Without insurance you will not get the keys which will be handed to you after the Etat des Lieux.
Note, if you do not go via an agency, we recommend on arranging a formal Etat des Lieux as this will save a few headaches when your contract ends. During the 'Etat de Lieux' the state of the apartment and everything in it is documented officially and can be compared to the 'Etat des Lieux' when you check out.
Also note, do not to pay anything until you have seen the property in question.
Good to know
Once you have the keys in your hand, it is very difficult for the property owner to get rid of you or break the contract. It is because of this that most landlords are picky when it comes to choosing a tenant and usually don't like it when the potential tenant doesn't fit the traditional box.
You as a tenant will be responsible to set up utilities such as electric, gas, water, phone, TV and internet contracts.
When you move out of the apartment the security deposit must be given back to you within 1 month after the contract has ended.
Be sure to check the inventory before you sign it and address any discrepancies within 10 days of the 'Etat de Lieux' to avoid them becoming a problem when you move out.